The Executive Committee (Board) meeting of the Nepal Cricket Association (CAN) has started in Pokhara on Tuesday evening, quite late than the scheduled time. The meeting was set to begin at noon; however, six core members left the meeting hall demanding the resignation of five CAN members, including president Chatur Bhadur Chand.
Chand asked everyone to join the meeting, saying that all issues would be discussed in the meeting. However, their absence till the evening saw the meeting being started in the presence of ten working committee members.
Rishiram Gautam, Daud Ansari, Sanjayraj Singh, Karan Mahatara Chhetri, Chumbi Lama and Dharmaraj Giri are the members who asked for the resignation of President Chand, Acting Secretary – Prashant Bikram Malla, Treasurer – Roshan Singh, Members – Durgaraj Pathak and Padak Khadka. Amit Bir Pandey, a dissatisfied member, was absent due to his health issue. The following members demanded the resignation of five committee members on moral grounds.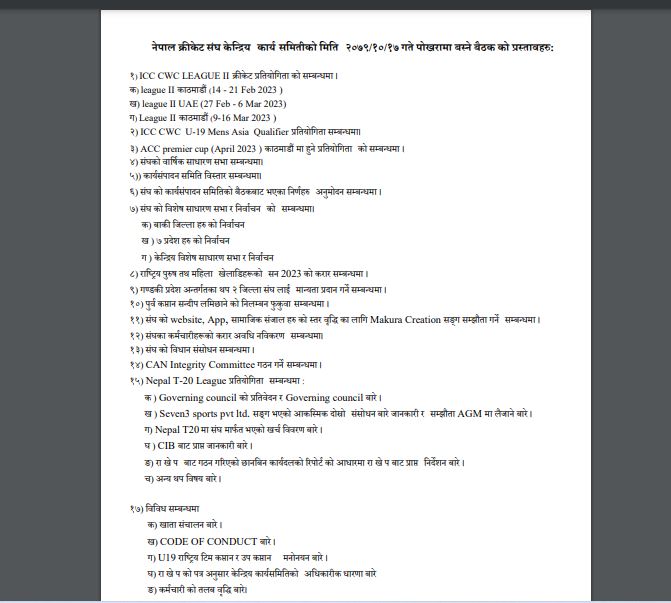 The committee will be discussing 17 different agendas, which also include the planning to release the suspension of cricketer Sandeep Lamichhane and review the agreement with Seven3Sports for organising the Nepal T20 League.