USA's fast bowler Ali Khan has been handed a two-match ban for a Level 1 breach of the ICC Code of Conduct. Pakistan-born 32 years old speedster will miss the USA's next couple of matches after collecting fourth demerit points within a 24-month period.
During USA's World Cup Qualifier Play-off match against Jersey in Windhoek on Tuesday (April 4), Khan committed the offence that led to a breach of Article 2.5 of the ICC Code of Conduct for Players and Player Support Personnel. The code relates to using language, actions or gestures which disparage or which could provoke an aggressive reaction from a batter upon his/her dismissal during an International Match.
As a result, Khan was fined 15% of his match fee. Khan had previously received three demerit points for two separate incidents during a T20I game against Bermuda in November 2021 during the ICC T20 World Cup Qualifier Americas Final in Antigua.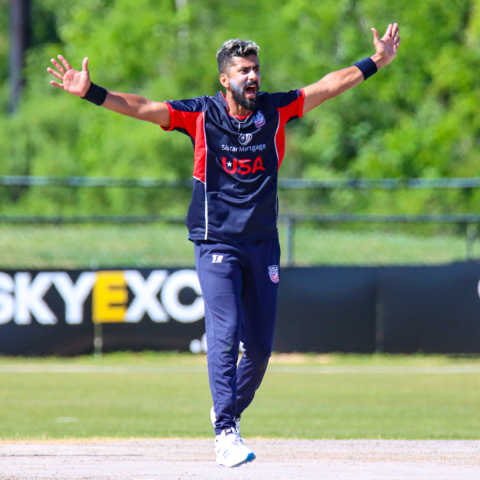 In addition, Khan's teammate Jasdeep Singh and Jersey's Elliot Miles were also found to have committed a Level 1 breach. Singh was given two demerit points and docked 30% of his match fee for violating Article 2.12 of the Code, which concerns "inappropriate physical contact with a Player, Player Support Personnel, Umpire, Match Referee or any other person (including a spectator) during an International Match. In addition to receiving a 15% match fee charge, Miles also received one demerit point for using an audible obscenity.
No official hearings were necessary because all three players accepted responsibility for their actions and the associated penalties.
Ali Khan is famous among Nepalese fans for his negative comments towards Nepali supporters. He was heavily criticised after calling Nepalese cricket fans one of the worst on Twitter.
Picture Credit – ESPNCricinfo