The Tri-Series between Nepal, UAE, and Hong Kong is set to commence tomorrow (October 18). The series serves as a preparation for the upcoming crucial tournament – ICC T20 World Cup Asia Qualifier.
Home team Nepal and UAE will battle in the first match at Mulpani Cricket Ground. All the series matches will be played at Mulpani except the final which will be played at TU Cricket Ground.
UAE is Nepal's familiar opponent, however, these two teams are set to play the first-ever T20I match on Nepalese soil.
Match Details:
Date: October 18 (Wednesday)
Venue: Jayakumar Shah International Cricket Ground (Upper Mulpani Ground)
Time: 1:00 PM (NST)
Live Broadcast: Himalaya Television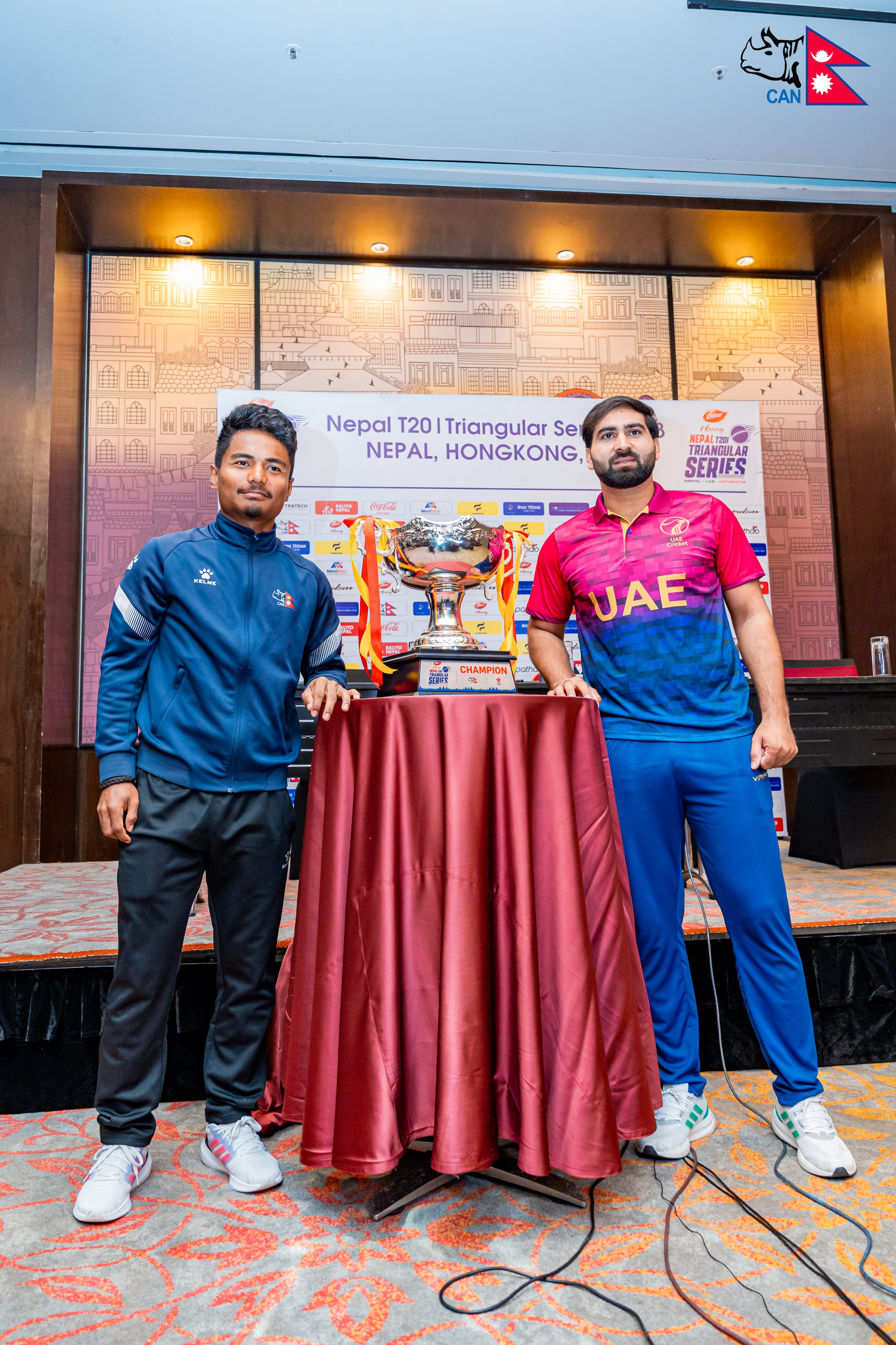 Ticketing Details:
The Cricket Association of Nepal (CAN) revealed that the ticket price will be NRS 200. Spectators have the option to acquire tickets either at the ticket counter located outside the venue or make online reservations through the IME Pay app.
Pitch Report:
The pitch at Mulpani is well-known for its slow nature, which is expected to result in favourable conditions for spinners, with the ball likely to turn. Given the pitch condition, it's likely that we will witness more overs from the spinners.
Nonetheless, the ground's shorter boundaries may prove advantageous for the batters as well.
Weather Report:
There is a slight possibility of rain at the beginning of the event. According to weather reports available on Google, there is a chance (40%) of isolated thunderstorms between 12:00 and 1:00 PM.
The average humidity is 60% and wind flow is 14km/h.
What to expect?
Nepal and UAE are facing each other for the first time at Mulpani Cricket Ground. We can expect a tight contest between them.
With a smaller boundary size, we might see numerous sixes in the match. Yet, in light of the pitch conditions, a total of 160 runs could potentially be considered an excellent score.
Head to Head:
Nepal and UAE have met five times in T20I matches with UAE winning three matches. Notably, This is the first time Nepal and UAE will battle in the T20I match on Nepalese soil.
Total matches played: 5
UAE win: 3
Nepal win: 2
In Nepal: –
In UAE: L W W
In neutral venue: L L
Probable XI: Kushal Bhurtel, Aasif Sheikh, Kushal Malla, Rohit Paudel, DS Airee, Sundeep Jora, Gulshan Jha, Sompal Kami, Karan KC, Abinash Bohara, Lalit Rajbanshi
Nepal's squad: Rohit Paudel (c), Kushal Bhurtel, Aasif Sheikh, Kushal Malla, Dipendra Singh Airee, Sundeep Jora, Binod Bhandari, Gulshan Jha, Bibek Yadav, Lokesh Bam, Karan KC, Sompal Kami, Pratish GC, Surya Tamang, Lalit Rajbanshi, Shyam Dhakal, Abinash Bohara, Sagar Dhakal.